By Todd Starnes December 20, 2014.
Parents in Farmville, North Carolina want to know why their children were given a Common Core vocabulary assignment in an English class that promoted the Prophet Muhammad and the Islamic faith.
"It really caught me off guard," a Farmville Central High School student who was in the class told me. "If we are not allowed to talk about any other religions in school – how is this appropriate?"
The Islamic vocabulary worksheet was assigned to seniors.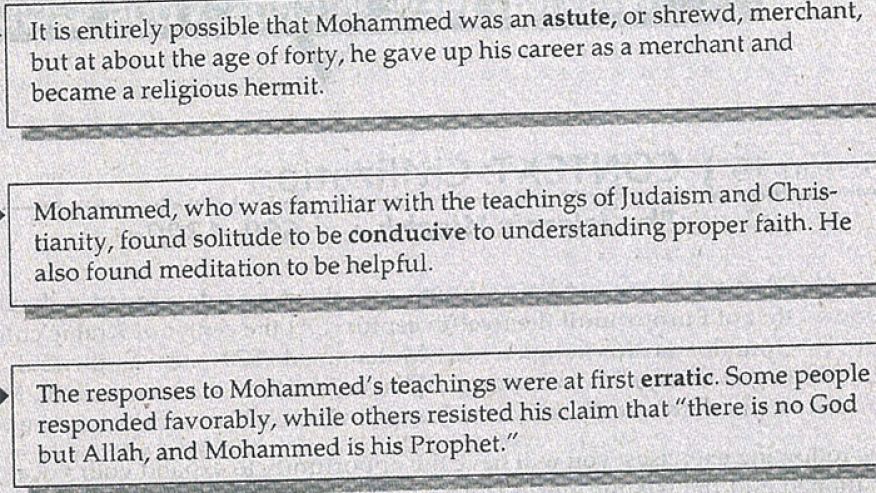 "I was reading it and it caught me off guard," the student told me. "I just looked at it and knew something was not right – so I emailed the pages to my mom."
I asked the school district to provide me with a copy of vocabulary worksheets that promoted the Jewish, Hindu and Christian faiths. The school district did not reply.
"In the following exercises, you will have the opportunity to expand your vocabulary by reading about Muhammad and the Islamic word," the worksheet read.
The lesson used words like astute, conducive, erratic, mosque, pastoral, and zenith in sentences about the Islamic faith.
"The zenith of any Muslim's life is a trip to Mecca," one sentence read. For "erratic," the lesson included this statement: "The responses to Muhammad's teachings were at first erratic. Some people responded favorably, while other resisted his claim that 'there is no God but Allah and Muhammad his Prophet."
Another section required students to complete a sentence:
"There are such vast numbers of people who are anxious to spread the Muslim faith that it would be impossible to give a(n)___ amount."
I spoke to one parent who asked not to be identified. She was extremely troubled by what her child was exposed to in the classroom.
"What if right after Pearl Harbor our educational system was talking about how great the Japanese emperor was?" the parent asked. "What if during the Cold War our educational system was telling students how wonderful Russia was?"
The parent said the material was classwork disguised as Islamic propaganda.
Continue Reading on www.foxnews.com
Get News!
Subscribe to get homeschooling wit, wisdom and updates.